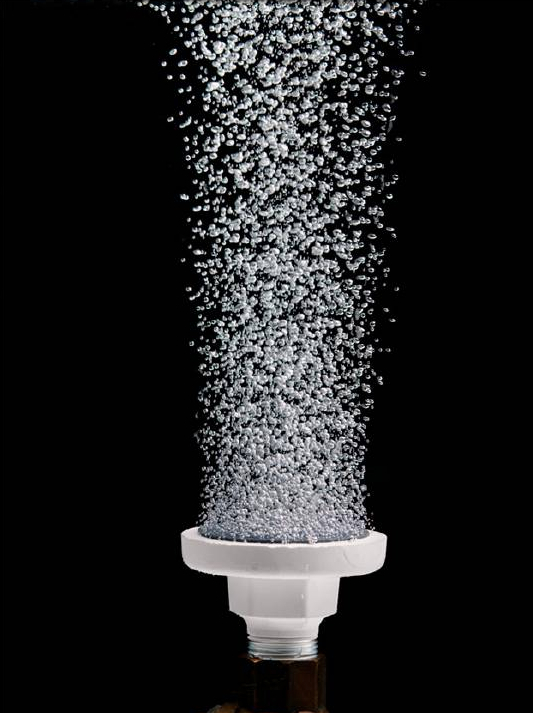 Distributing gas into a liquid can be most efficiently achieved by controlling the release of fine, uniformly dispersed bubbles through a porous ceramic media. Filtros Limited utilizes unique ceramic compositions and high temperature processing to produce diffusers that are mechanically stable and chemically inert throughout years of service. This makes our products the most efficient diffusers available on today's market. The rigidity of Filtros products also provides fixed pore size, that is unaffected by pressure change or material age. No matter what type of gas you choose (oxygen, ozone, argon, carbon dioxide or any other gas), Filtros diffusers are guaranteed to optimize your system's operating efficiency."

The Filtros All-Ceramic Diffuser is a one-piece design formed of a gas permeable porous alumina diffuser bonded at high temperatures to an impervious ceramic holder yielding a corrosion resistant product.
Stainless steel components, polymer gaskets and cements of any kind have been eliminated from the design altogether. Its leak free design means that customers experience lower operating costs by achieving higher efficiencies. Lower maintenance and installation costs are also achieved through our one-piece design and gasket free construction. With its 3/4" NPT connection, this diffuser is designed to retrofit into existing systems. Originally developed for corrosive ozone systems, third party testing indicates that the combination of materials and design produce a highly flexible diffuser suitable for use in many different systems operating a wide range of gases and flow parameters.